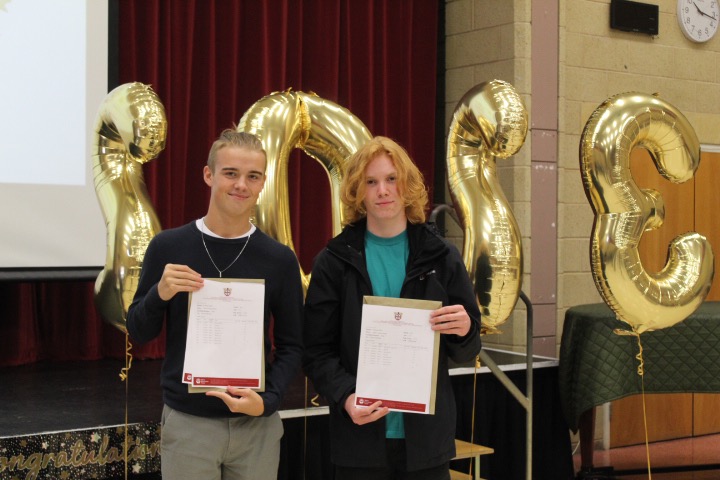 Thursday 24th August saw the Class of 2023 collect their GCSE examination results after five years of hard work.
In the midst of a challenging national picture, with results dropping significantly across the country, Woodhey have maintained levels of attainment, even seeing improvement in some subject areas like Maths, with more students gaining grades at Grade 4 and 5 than seen previously. Results are again significantly above the national average, with 81% and 84% of students passing Maths and English respectively and 15% more Woodhey students passing Science than the national average.
All at the school are exceptionally proud of all students who have worked tirelessly, supported by a talented team of staff to produce the excellent results. As well as successes as a year group, there have been a number of notable individual successes. For example, Oliver and Calum, who both achieved a fantastic seven Grade 9s and two Grade 8s; and Chloe who attained a brilliant seven Grade 9s, one Grade 8 and one Grade 7. There were similar successes across the school, with Zhenia who joined Woodhey from Ukraine part way at the start of Year 11 achieved a Grade 9, two Grade 6s and five Grade 5s. Reuben, who has been a valued part of the school's Resourced Provision achieved a super four Grade 7s, two Grade 6s and a Grade 5. Similarly, Molly, who worked very hard to achieve four Grade 3s and two Grade 2s, making exceptional progress during her time at Woodhey.
Mr Watson, Headteacher, said: 'We are exceptionally proud of each and everyone of our students who have worked very hard to achieve another great set of results. These results are testament to the hard work of students and the superb support from staff across school who have invested time and effort in equipping students with the skills and knowledge they needed to succeed! The results demonstrate again, the quality of education that we provide to our students, and we are very grateful to our team who support this each and every day. Lastly, we would like to wish the Class of 2023 the very best of luck for the future.'